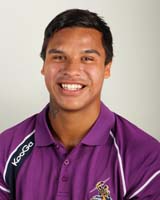 Pride – 2013
Image via Wikipedia
By Peter Petterson
First published at Qondio in 2010:
The photograph attached is  of my now 17 year old grandson, Pride Petterson – Robati, from the Hutt Valley in 
Wellington, New Zealand
. who has been signed up for a six year contract with the Melbourne Storm NRL professional rugby league club in Melbourne, part of the Australian National 
Rugby League
 competition. This story was originally written in 2010 when Pride was 14 years old.
The talented rugby league player has had a great season locally. His 
Upper Hutt
Tigers club Under 15 side won their competition. His 
Wellington Orcas
 U15 rep side finished second in the national competition. He was top try scorer and points scorer. Once this competition was completed, he was called into his 
Upper Hutt College
school team for the play-offs of the Wellington Secondary Schools competition. They won the final for the third successive year.
Last year Pride competed in school athletic events, being placed in the Wellington representative shot put and javelin finals. He was awarded the Top 
Sportsmen of the Year
 award at Upper Hutt College, and was a member of the champion rugby league team as well, at the age of 14 years. He was discovered by the Melbourne Storm at a bootcamp trial in Lower Hutt late in 2009.
He has competed at the provincial level in rugby league for many years. He was also nominated in the 
NZ
 Merit Team this year. This is a non-playing side to recognise those players not eligible for The New Zealand Junior Kiwis rugby league team.
Pride is a very modest young man who is a dedicated player and trainer. His fitness is unparalled by other players of his age grade. His manager described him as the best player of his age in New Zealand. Obviously the Melbourne Storm thinks so very highly of him to contract him for so many years – an investment for the future. He is a tall, powerfully built, extremely fit young footballer of huge potential.
Playing football is only half of the deal; young players also have to prepare for life after football. The Melbourne Storm will finance Pride through one of the top schools in Melbourne during 2011, to do an accountancy course. He actually did well at school back in New Zealand during 2010.
He will live with a local family, will be paid living expences and an allowance in future dependant on his age and playing grade. He will be flown back to his family regularly. He is at present on holiday leave with the club – returning to Melbourne on Jan 10 2011.
Barring injuries and unexpected circumstances, this young man should be ready for the top level in about five years. We all wish him luck. The Pride of his family, his friends his football club and his country. He is and will for ever remain our little Pride. Good luck!
We are extremely proud of this young man with such huge potential.
To update this story, Pride went on to play for the Storm SG Ball (U18) in 2011-12. This year, 2013,  playing for the Storm Thunderbolts Under 20 side in the NYC  Holden Cup competion. At the time of this update he has been selected to play at Lock Forward – No 13  for the fifth successive game. Three from four so far, and due to play the West Tigers next Monday evening.  Until the next update.
http://huttriver.qondio