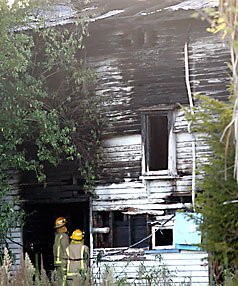 The body found at a Peterborough St property was removed by police this afternoon.
The earthquake-damaged central-city property, which was used by vagrants as a shelter, was gutted by fire last night.
The body was found while firefighters were dampening down hot spots after the blaze was put out.
Detective Senior Sergeant John Gallagher said there was no information about the identity of the deceased person, and severe fire damage meant police did not yet know the gender, age or ethnicity of the victim.
An autopsy will be carried out this afternoon.
Gallagher said the extensive fire damage to the building made the scene examination and body-recovery operation difficult.
The body removal was delayed because of concerns over the structural integrity of the building, which had been severely compromised by fire damage, he said.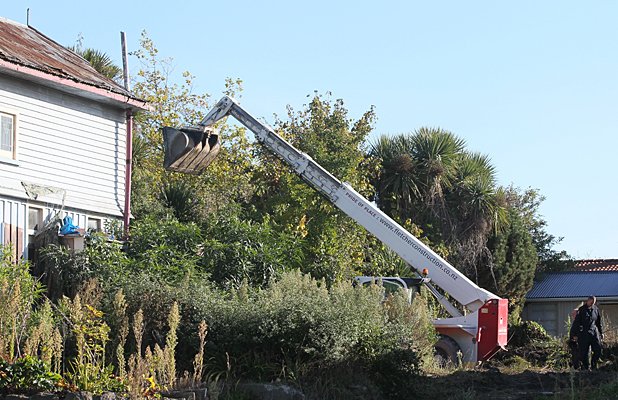 "This has also limited our ability to conduct a comprehensive forensic examination of the scene to date," he said.
"This work is under way but is likely to be a slow process as we work with the Fire Service to ensure safe access to the property."
The fire damage meant police had to cut away part of the wall of the upper floor of the property to access the scene.
A high-access fire engine was used to lift the body out of an upper-storey room this afternoon.
Gallagher said there was no indication that any other people were inside the property at the time of the fire, but investigators had not yet been able to fully clear the scene.
"It is far too early to speculate on the cause of death and on the cause of the fire  or whether it was accidental or deliberate," he said.
"Our priority has been the safe recovery of the body of the deceased from the scene. This has now been achieved and will assist in advancing our investigation into the identity of the deceased and the cause of the blaze."
Emergency services were called to the fire at the property aboutt 8.20pm yesterday.
Fire Service staff found the body about 12.55am today.
The body was found in an upstairs room of the front flat at the property, an older-style weatherboard house that had been converted into flats.
Both front flats were extensively damaged by the fire, while the rear single-storey flat was relatively undamaged.
The property is in private ownership, but was vacant after quake damage.
The flats were known to have been used by vagrants, and police have been called to clear people from the property in the past.
Police are asking for any witnesses to the fire, or anyone who has information about the incident, to contact police as soon as possible on 363 7400.
To provide information anonymously, call Crimestoppers on 0800 555 111.
Blaze 'like fireworks'
Neighbour Chris Merritt said a nearby home, also quake-damaged and abandoned, was being used by prostitutes, but she was not sure whether the property in which the body was found was also being used by street worker
 Acknowledgements:  Fairfax News
http://www.stuff.co.nz/the-press/news/8531249/Body-found-in-house-fire