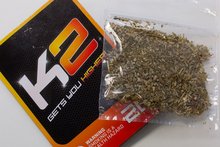 Health authorities have warned of the dangers of synthetic cannabis after three young adults suffered acute kidney injuries this month.
Two of the three patients required intensive care treatment.
Similar cases have recently been reported overseas, with some patients requiring dialysis.
Canterbury Medical Officer of Health Dr Alistair Humphrey said clinicians have growing concerns about the easy access and safety of these drugs, and the long term effects they could have on people's physical and mental health.
"There is a potential for severe and permanent toxic injury with smoked or ingested synthetic cannabinoid drugs," he said.
"I'm told that calls to the National Poisons Centre and attendances to Emergency Departments by patients suffering adverse effects from these drugs are increasing all the time.
"Ingredients are not disclosed by manufacturers and as far as we are aware these drugs have not had proper safety testing."
While synthetic cannabis, such as K2, are not allowed in smoke-free areas, they are otherwise not subject to any food or drug regulation, he said.
"Adverse side-effects have included anxiety, vomiting, chest pain and headache. As well as the recent cases of kidney failure other severe side-effects include seizures, psychosis and heart attack."
Patients typically range from 16 to 22 years, and many are teenagers. But patients as young as 13 years-old have reported they are regular users.
"As yet no specific brand has been implicated in the cases of serious toxicity; doctors treating unwell patients that have used synthetic cannabinoids should consider testing for kidney injury and cardiac complications," Humphrey said.
These drugs may also cause psychosis in patients with or without previous psychiatric diagnoses, he said.
"Emergency doctors and toxicologists recommend avoiding synthetic cannabinoids until they have been tested and the health risks are fully understood. Clinicians will continue to work closely with the Ministry of Health to protect the safety of the public.
http://www.nzherald.co.nz/nz/news/article.cfm?c_id=1&objectid=10879210
http://www.nzherald.co.nz/nz/news/article.cfm?c_id=1&objectid=10879498
Related articles