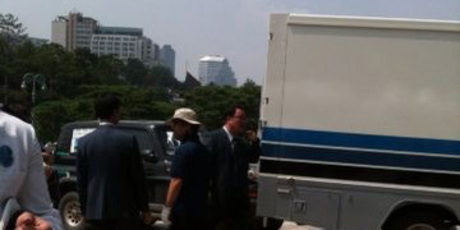 A SUV bearing a picture of Prime Minister John Key which crashed at the cordons outside the Seoul war memorial where he gave a speech today. Photo / Katie Bradford-Crozier
Prime Minister John Key's image, along with that of Adolf Hitler were displayed on a vehicle which a protester attempted to drive into the crowd at South Korean armistice commemorations this morning.
New Zealand eyewitnesses report seeing security personnel at the tightly guarded event attempting to break into the jeep type vehicle after gas cyclinders were spotted inside.
"All we saw was this jeep just try to approach the crowd at the back and try and crash into the crowd but all it crashed into was the back of a truck", a member of the New Zealand entourage attending the commemorations said.
The man and another New Zealander who saw the incident said the van displayed images of Hitler giving a 
Nazi salute
 and Mr Key with finger across his lips.
They said it was clearly protest of some kind.
However, they also said they saw security staff trying to break the windows of the vehicle get the male driver out and they also said there appeared to be gas cylinders inside.
Mr Key had left Seoul's National War Memorial by the time the incident took place and the vehicle was cleared from the scene quickly.
http://www.nzherald.co.nz/nz/news/article.cfm?c_id=1&objectid=1090424
Related articles