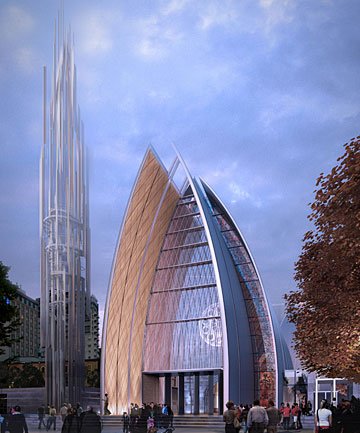 IN FAVOUR: This contemporary design was one of three options put forward for the quake-damaged Christ Church Cathedral.
LOOKING IN: The interior of the contemporary design.
Court action is now the only barrier to the construction of a modern Christ Church Cathedral.
Bishop Victoria Matthews told The Press option three – the modern Warren and Mahoney concept drawing – could be altered or completely redesigned.
Safety and cost were key considerations, but the trust was "not immune to new ideas".
"But it's a contemporary cathedral – that we can say without question," she said.
The building's fate could hinge on a Supreme Court challenge filed by the Great Christchurch Buildings Trust (GCBT), co-chaired by former MPs Jim Anderton and Philip Burdon.
The original High Court decision required the trust to commit to rebuilding a cathedral in Cathedral Square and to determine how it would use the space, Matthews said.
"We've now answered that."
She believed the church had been "scrupulously fair" to restoration campaigners but still expected "every imaginable roadblock" to try to prevent construction of the new design.
Read more here:
http://www.stuff.co.nz/the-press/news/city-centre/9144565/Christ-Church-Cathedral-to-be-modernised
Related articles