JOHN KIRK-ANDERSON/Fairfax NZ
A former tenant of a red-zoned Christchurch City Council housing complex is questioning why habitable units are sitting empty when there is a shortage of accommodation in the city.
Paul Wakefield lived in council-owned Calbourne Courts on Hulverstone Drive for 12 years before being issued with a 90-day eviction notice in July.
Reluctantly, he and the only other remaining tenant in the 26-unit complex packed up their belongings and moved into Knightsbridge Court, but both would move back if they could.
Calbourne Courts sits just inside the red zone and is due to be handed over to the Crown by the council as part of the terms of the cost-share agreement they signed earlier this year.
Wakefield told The Press the damage to the complex was minimal and most of the units were still perfectly habitable.
"I felt safer there than I do here [at Knightsbridge]," he said.
"They are bloody good units and it makes no sense to have them sitting empty. We've got a housing shortage and students living in tents. It really bugs me that these units are not being used."
Christchurch City councillor Glenn Livingstone said he shared Wakefield's frustration that good housing stock was sitting unused.
While two of the units at Calbourne Courts had required bracing after the quakes, the rest appeared undamaged, although they had not been subject to a detailed engineering evaluation.
The units could be used as temporary accommodation for rebuild workers or others in need of emergency accommodation, Livingstone said.
He had spoken to Canterbury Earthquake Recovery Authority (Cera) chief executive Roger Sutton about the idea.
"It makes sense to put them to use," Livingstone said.
Christchurch Mayor Lianne Dalziel, who met Wakefield and other residents of Calbourne Courts when she was Christchurch East MP, said she was interested in finding out more about the logistics of keeping the complex running.
Council community services general manager Michael Aitken said the complex was sitting empty because Cera wanted it vacant before it took possession in January.
The units in the complex were in varying states of repair but the council had chosen not to spend money on detailed engineering evaluations because the land had been red-zoned.
"The water and wastewater are still connected but I'm not sure how much longer that will continue," Aitken said. Staff were looking at the costs of keeping the complex running but with Cera due to take possession in January it was questionable whether the costs could be justified.
http://www.stuff.co.nz/national/9369196/Port-Hills-homes-on-unstable-land
– © Fairfax Media
The NZ Labour Party announced at its conference last weekend that  liveable red-zone houses would be used on a temporary basis until enough short-term housing can be built in earthquake devastated Christchurch. Not to use these houses is an inane waste.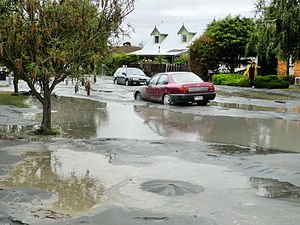 Related articles