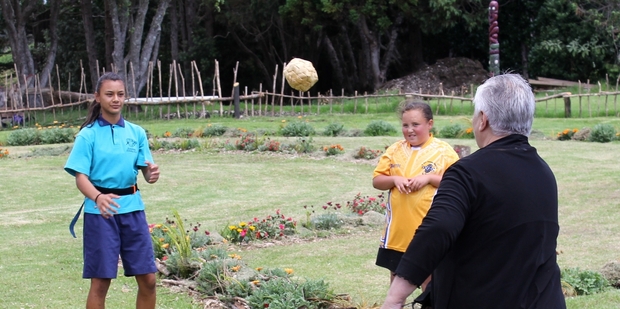 GAME ON: Associate Health Minister Tariana Turia opened the new field not by cutting a ribbon but by throwing a ki (flax ball) to Kawakawa Primary School pupil Yves Brown (left) and Erina Paraha of Whangarei's Te Kura Kaupapa Maori o Rawhitiroa.
A game invented by Maori, played in Europe, taught in American schools and until recently all but forgotten in New Zealand, finally has a playing field of its own.
The country's first field dedicated to the traditional ball game ki-o-rahi was opened by Associate Health Minister Tariana Turia in Waitangi yesterday, not by cutting a ribbon but by throwing a ki (flax ball) to two young players.
The field comprises a large rock forming a central target (tupu), three concentric circles and seven carved boundary posts (pou) enclosed by a woven manuka fence. Paihia School donated a waharoa (gateway) depicting the legend of Rahi, the game's founder.
Points in the full-contact game are scored by striking the tupu with the ball, or touching the pou then reaching the inner circle with ball still in hand.
Mrs Turia praised Kerikeri man Harko Brown for driving the project and helping revive the sport. Ironically the game was still played in France and Italy, a legacy of the Maori Battalion in World War II, and was included in the American school curriculum but had been all but lost in Aotearoa. "So it's great it's been revitalised," she said.
It was fitting the first ki-o-rahi field to be carved permanently into the land was at the birthplace of the Treaty of Waitangi and an inclusive New Zealand society, she said.
Following the opening, pupils from the schools involved in painting the seven pou explained the significance of their work, and Kawakawa Primary School took on Paihia School in the field's first official game.
Sports club Ki-o-rahi Akotanga Iho built the field with help from hundreds of supporters in Kaitaia,Taipa, the Bay of Islands and Whangarei.
Far North Mayor John Carter said the new field was a good example of a Far North community stepping up and doing things for itself. It was already becoming a tourist attraction, helping boost the economy by giving visitors something new to take part in, and was preserving an important tradition. Mr Carter said he had taken things Maori for granted until his stint in the Cook Islands taught him the importance of culture.
The field, called Te Atarauarangihaeata, is on land gifted by the Waitangi National Trust across the road from the Treaty Grounds. It is a gift from the club to the people of New Zealand and includes picnic tables, flower gardens, seats and a tree swing.
Acknowledgements:  – NORTHERN ADVOCATE
http://www.nzherald.co.nz/northern-advocate/news/article.cfm?c_id=1503450&objectid=11168431
Related articles