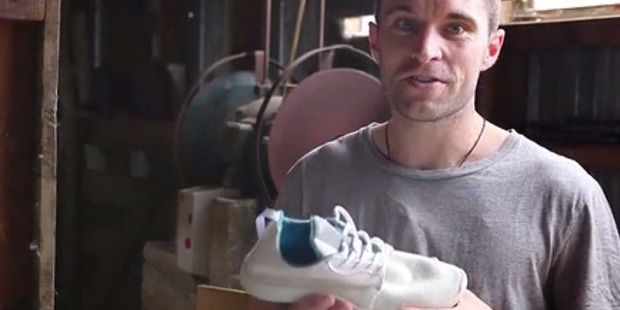 Former All White's skipper Tim Brown holding a Wool Runner prototype. Brown's start up company Three Over Seven has started a Kickstarter funding campaign to get the shoes into production.
Tim Brown's sock-less woollen running shoe idea is one step closer to being a commercial reality after the startup's wildly successful crowdfunding campaign.
It took just over 24 hours for Brown's fledgling company Three Over Seven to reach its $30,000 target on crowd funding site Kickstarter.
So far, more than 290 people from around the world have backed the Wool Runners idea each pledging a small financial contribution – and that figure could grow much higher by the end of the month-long funding push.
The former All White's and Phoenix soccer player said the goal of hitting $30,000 from the Kickstarter campaign was the breakeven point to get the shoes into production.
"It has required an investment of well into the six figures to get to this point with our fabric production and the legal costs of patent filing," Brown said.
The shoes are made from mid-micron New Zealand sheep's wool, utilising a patent pending process comprising of knitting together wool fibres, melt-bond fibres, and multifilament yarn to form aunique knitted fabric.
http://www.nzherald.co.nz/business/news/article.cfm?c_id=3&objectid=11194361
Related articles