Wairangi Koopu finds sports training comes in handy for warrior role.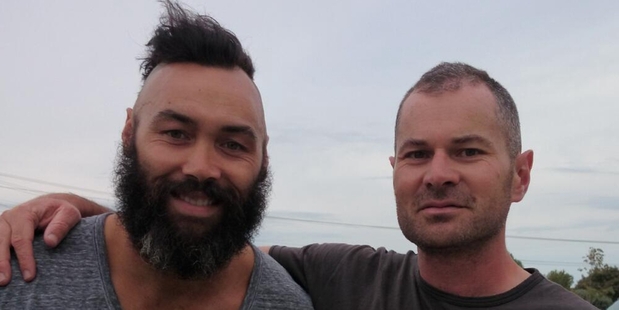 Wairangi Koopu and Toa Fraser on the set of The Dead Lands.
League star Wairangi Koopu has made his acting debut in Toa Fraser's action movie The Dead Lands playing a Maori warrior in pre-European New Zealand, and he says the film – which uses authentic weaponry, dialogue and a traditional hand-to-hand combat style called mau rakau – will be a showcase of Maori history for the world.
"It was a fantastic experience to be involved in the project," Koopu told The Diary. "I feel very spoilt and proud to be a part of it. As an emerging speaker, the language was a real treat because it's all 16th-century te reo. It's very in-depth and poetic, almost Shakespearian. It will showcase what Maori were like in that period of history."
Koopu, who knows Fraser through former Warriors teammate Logan Swann, says the role called for physical endurance.
"There was a lot of fighting with ancestral weaponry. I loved it. Coming from a physical background with league, it was good to play rough.
I picked up a few cuts and bruises."
Koopu plays a member of an elite tribe of warriors. It's his first foray into acting, and, while he is no stranger to television studios (he's a regular on Maori TV sports showCode), he says the movie production set with a vast number of crew is another ball game.
He joins an impressive list of stars, including James Rolleston, George Henare, Rena Owen and Lawrence Makoare, who appeared inDie Another Day.
The film is about a Maori chieftain's son (Rolleston) who sets out to avenge his father's murder and bring peace and honour to the souls of his loved ones after his tribe is slaughtered through an act of treachery.
Tainui Stephens, a producer on the film, says Koopu, a long-time friend, was an obvious choice to play a Maori warrior.
"He has the right look, and the capacity with the Maori language. And he was physically capable for the role, which requires endurance. There's a lot of running and fighting in the movie and it's shot in a lot of external locations with the various elements," Tainui said.
Production on The Dead Lands wraps this month with a release date expected at the end of the year.
http://www.nzherald.co.nz/personalities/news/article.cfm?c_id=72&objectid=11197715
Related articles