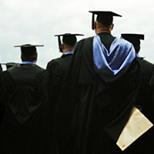 New cost-cutting measures affecting older students have put the Government under fire for age discrimination.
The Human Rights Commission is investigating an Auckland student's complaint that a new policy affecting those aged 40 and over breaches human rights laws.
Tatiana Kniazeva, 47, dreams of becoming a nurse, but she has been losing sleep since discovering last month her allowance would be cut halfway through her degree.
"Who decided over-40s? I feel bad about my age now," she said. "I can't do cleaning all my life. I really love nursing. I'm empathetic and like helping people."
The new policy, which came into effect this year, restricts student allowance access to three years for those over 40. The Human Rights Commission confirmed it has received six complaints over the new policy, including Kniazeva's.
Auckland Chamber of Commerce chief executive Michael Barnett said the "blunt instrument" policy appears to undermine the Government's desire to upskill the workforce.
"It's such a contradiction to all those messages we've been getting about retraining and participating in the workforce.
"Whether you take it as ageism or just stupid legislation, it doesn't matter, but it's a blunt instrument they're using rather than something more selective."
Kniazeva is one of 17,000 people over 40 who study each year, according to a Tertiary Education report.
The policy change was announced in the 2013 budget and is expected to save the Government about $10 million over four years.
Kniazeva said she was shocked to discover an English course and health certificate she completed would later count against her when the new policy came in retrospectively.
"I'm financially stressed and can't sleep at night. It's the last thing you need as a student."
She said she wanted to work, but her nursing degree took more time than a fulltime job as she tackled lectures, job placements and assignments.
The Government also sparked claims of age discrimination in 2011 when it decided to restrict access to loans for those aged 55 and over. Students aged over 65 also no longer qualify for the allowance from this year.
The Human Rights Commission has received 35 complaints and inquiries about the Government's age-restrictive student policies since 2011. The commission can enter into mediation with the Government over complaints. If that fails, it can refer people on to the Human Rights Review Tribunal.
NZ Union of Students' Associations president Daniel Haines said the policy was incredibly discriminative towards older students wanting to upskill and was another measure in the Government's cost-saving crackdown on students.
"It's a way to shave students off the side."
Tertiary Education Minister Steven Joyce said he took advice on whether the policy was discriminatory. "We're comfortable that it doesn't breach the Human Rights Act. The Government is allowed to direct policy against particular groups."
The policy changes were aimed at reining in the cost of student allowances and the loan scheme.
Students can still access the student loan scheme when their allowance eligibility runs out.
Acknowledgements:  © Fairfax NZ News
http://article.wn.com/view/2014/02/22/Ageism_alleged_in_over40s_fund_cut/
Related articles