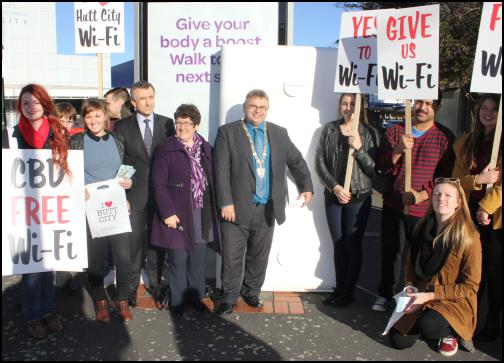 An economic about-face that will see millions of dollars spent in Lower Hutt is being criticised by a ratepayers' group as "a last-chance-saloon spending spree" ahead of a possible supercity merger.
Last week the Hutt City Council unveiled "a significant shift" in its draft financial strategy, aimed at boosting development. Proposals included a new $3 million learners' pool at the Huia swimming complex, and a $4m revamp of Riddiford Gardens.
The projects could take the council's net debt from about $66m at present to a possible $93m in 2020 if all the initiatives proposed in the draft Annual Plan are adopted.
Charles Sands, of ratepayers' group Heart of the Hutt, labelled the spending plans "a last-chance-saloon spending spree".
"It seems that this flurry of activity may be due to the proposed supercity amalgamation with Wellington," he said.
But Lower Hutt Mayor Ray Wallace yesterday dismissed the claim as "absolute nonsense".
The mood for more spending and growth was clear during last year's election campaign, which he won with a majority of 18,000, he said.
"We have been given the biggest mandate in Lower Hutt's history. People are telling us that it's time to revitalise the city."
Heart of the Hutt has campaigned against plans to demolish Lower Hutt's Town Hall and Horticultural Hall for a new convention centre.
In the 1990s, the Hutt City Council had its finances monitored by the government, after concerns about escalating debt which then totalled almost $110m. The council currently has an AA credit rating from ratings agency Standard & Poor's.
Mr Wallace said debt was forecast to rise, but the council still owned assets of $1.7 billion.
Hutt City Council chief executive Tony Stallinger said that, even with the proposed potential increase in debt, "Hutt city would still have comfortably the lowest debt per capita of any New Zealand city our size".
A request for the council to put $25m towards a proposed football stadium in Petone was not included in the forecast.
Related articles