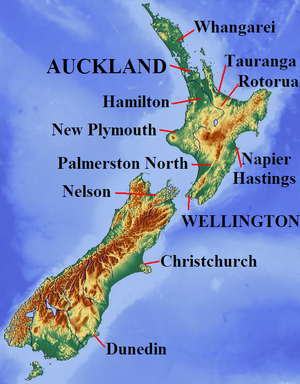 You could argue that New Zealand has two 'national' days.  Waitangi Day is when we (supposedly) acknowledge the founding of our nation and the agreement between Maori and the Crown.  ANZAC Day, while ostensibly being about remembering people who have served and fallen in past years, also seems to be becoming about remembering an event which is often seen as a key moment when our nation came of age.  Although ANZAC Day is supposed to be about remembering New Zealanders have served in all wars, often the primary focus seems to be on the Gallipoli campaign.  Many people talk about Gallipoli as the moment when New Zealanders started to think of themselves as New Zealanders rather than as citizens of the British Empire, and indeed as the point in time when we started to question the ability of British generals (and by extension British rulers) to make decisions on behalf of New Zealand troops (and by extension people).
I'd suggest that this 'founding of a nation' message of ANZAC Day is not as strong here as it is in Australia, but it's definitely present.
In that context, I thought it would be interesting to ask New Zealanders which of those two days meant more to them – ANZAC Day or Waitangi Day.  The question was asked in a SAYit online survey of n=1000 New Zealanders, conducted in late March / early April 2013.  The question was simply 'which means more to you personally – ANZAC Day or Waitangi Day?':
60% said that ANZAC Day meant more to them personally than Waitangi Day
Just 8% reported that Waitangi Day meant more to them than ANZAC Day
29% said that both were equally important
2% were unsure.
That's an emphatic result, which to my mind probably says more about how people feel about Waitangi Day than how they feel about ANZAC Day.  Waitangi Day has become associated in many people's minds with protests and treaty grievances – it's a day that forces us to confront one of the more controversial issues of the last few decades.
The same can't be said about ANZAC Day, particularly when the primary focus is on battles that were fought many years ago.  I'm sure many people have views about whether New Zealand troops should have been sent to World War I or World War II (or indeed Vietnam), but it's not something we're likely to see street protests about.  Although there have been protests about New Zealand troops being sent to Afghanistan, I don't think those protests have ever come to be seen as the primary focus of ANZAC Day.
The views of Maori on this issue are very different to those of the population as a whole.
Just 29% of Maori say that ANZAC Day means more to them than Waitangi Day, while 56% regard the two days as equally important.
14% of Maori feel that Waitangi Day means more to them than ANZAC Day.
The number saying Waitangi Day means more to them than ANZAC Day generally remains low across all demographic groups, but there are substantial variations between demographics in terms of the numbers saying ANZAC Day means more to them and the numbers saying both days are equally important.
National voters (78%), those whose highest qualification is from high school (67%) and over 60 year olds are particularly likely to say that ANZAC Day is the more meaningful for them.
People with postgraduate qualifications (39%), Green voters (39%), Labour voters (34%) and under 30 year olds (33%) are relatively likely to say that both days are equally important.
Green voters (21%) and people with postgraduate qualifications (17%) are clearly the most likely to say that Waitangi Day means more to them than ANZAC Day.
http://petesplace.blogtown.co.nz/2014/04/11/anzac-day-or-waitangi-day-which-means-the-most-to-you/